Post by Lee on Mar 18, 2015 12:11:29 GMT
I have been doing a bit of reading about the 20's racing driver Count Louis Zborowski who lived at Higham Park near Canterbury in Kent. He was the son of Count William Eliot Morris Zborowski (1858-1903) and Margaret Laura Astor Carey (1853-1911). His Father had also been a racing driver and died in a racing accident at la Turbie in France in 1903. His mother, a granddaughter of William Backhouse Astor, Sr. of the prominent Astor family.
During Zborowski's racing career he competed in many different marques and events. He was an early patron of Aston Martin, and raced for them at Brooklands as well as the 1923 French Grand Prix. In the 1923 Indianapolis 500 he drove a Bugatti, and in the 1923 Italian Grand Prix at Monza he drove the single seat American Miller 122 and then joined the Mercedes team in 1924.

As well as being a racing driver, Zborowski also designed racing cars with his engineer Clive Gallop. All his cars were named "Chitty Bang Bang" (1-4). The origin of the name is disputed but is believed to have come from either the sound of an idling aeroplane engine or more likely from a World War I song about officers based in France who would obtain a weekend pass or 'chit' so they could go to Paris to 'enjoy the favours of the ladies'. Hence 'Chitty Bang Bang'. The cars were immortalised in the children's book by Ian Fleming, and the subsequent musical film.
Something worth mentioning is that "Chitty Bang Bang 4" was purchased and modified by Parry Thomas and then renamed BABS. He was killed in the car when it crashed at Pendine Sands during a land speed record attempt.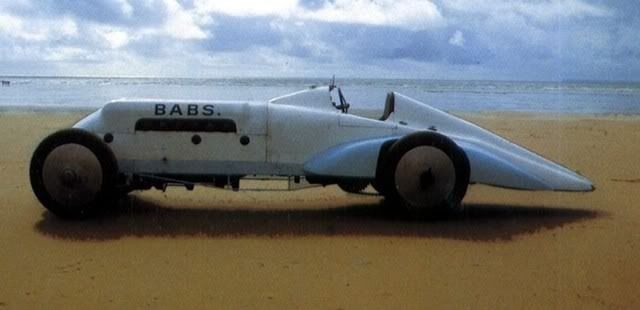 Zborowski was killed soon after joining the Mercedes team as a works driver in one of their cars at Monza. Crashing into a tree at high speed during the Italian Grand Prix. It is said that when he died he was wearing the same cufflinks that had earlier brought about his father's death in 1903, when one of the cufflinks had become caught up in the hand throttle of his Mercedes.
As well as his passion for cars and racing he had a keen enthusiaism for railways and had a 15 inch gauge railway circuit built around his estate in Kent. This line was part of the inspiration behind the joint decision by Zborowski and his racing friend Captain J.E.P. Howey to build a fully working express railway. Despite the Count's untimely death, the Romney, Hythe and Dimchurch Railway was the dream realised. The line carries 100,000 passengers a year and is proof of the underlying appeal of the miniature railway that Zborowski showed such passion for during his lifetime.